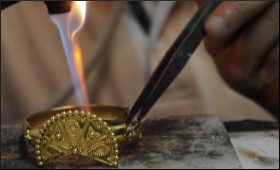 Indian gems and jewelry exporters are shifting their focus to China as the country's traditional export markets such as the US and Europe got adversely impacted by the massive global slowdown, said Executive Director at the Gems and jewellery Export Promotion Council (GJEPC), Sabyasachi Ray, in New Delhi on Monday.
Ray told SME Times, "The total market is shifting at present. We can see that the US market can go down from 42 percent to 34 percent in future. And Europe from 11 percent it will come down to 7 percent. This is how the shift is happening."
"The market is shifting to China. For India, it does not matter whether it is Europe or China. So, we have been marketing in China in a big way. So, China can substitute whatever we are having in the European or US markets," he added.
However, he also feels that the European market because of the global economic crisis will opt for cheaper products, which can likely be an opportunity for India as it is shifting market base to other markets (especially China).
In fact, India's share of exports is also growing globally as compared to other destinations such as Italy, Turkey, Germany, etc, Ray added.
However, the alternative markets such as China, Russia and Middle-East are some countries where India is trying to expand in terms of its exports at present, he said.
On the export front, he also mentioned, "Export growth is very positive. We are witnessing growth in the jewelry segment of around 12 percent. In fact, diamond exports have grown up by 30 percent."
"We expect of around 20 percent growth by the end of this fiscal," Ray further added.
During the period from April-October this fiscal, total exports of gems and jewelry rose 41.64 percent in dollar terms at $21.39 billion as compared to $15.10 billion in the corresponding period of the previous year.